Indulge your skin and your senses with our Lavender Kiss salt bars. Expertly formulated for a deep yet gentle cleanse, our lavender natural soaps are handmade with a blend of skin-nourishing oils, natural clays and pink Himalayan salt for a touch of gentle exfoliation to leave your skin looking and feeling polished.
Essential oils offer amazing skin benefits - lavender oil being one of the most revered in natural skincare. Lavender in soap delivers a wonderfully fragrant and relaxing cleansing experience that your skin and your wellbeing will thank you for.
Our handmade soaps are suitable for all skin types including oily skin, dry skin and combination skin.
Regular price
Sale price
£8.00
Unit price
per
Sale
Sold out
Buy any 4 regular size soaps and get £4 off!
Hero Ingredients

French green and pink rose clay - helps to draw out toxins, dirt and sebum from the skin.

Himalayan pink salt - used in salt treatments around the world to treat skin prone to eczema, psoriasis and acne. Salt is also an amazing natural exfoliant.

Coconut oil - super skin-hydrating, coconut oil is naturally antibacterial and anti-fungal, and provides exceptional moisturising properties to the skin.

Lavender oil - soothing and calming, lavender is an amazing natural plant extract that is used worldwide to even out skin tone, reduce the appearance of scarring, help with acne and many other skin conditions.
Delivery

Enjoy free standard delivery when you spend £40 or more, or free Express Delivery when you spend £100 or more! Discount is automatically applied at checkout.

We'll dispatch your order within 2 days and send it by Royal Mail. Choose from:

Standard Delivery: Tracked 48 service (2-3 days) - up to 2kg: £3.95

Standard Delivery: Tracked 48 (2-3 days) - over 2kg: £5.65

Express Delivery: Tracked 24 (1-2 business days) - up to 2kg: £4.65

Express Delivery: Tracked 24 (1-2 business days) - over 2kg: £6.45

Royal Mail Special Delivery Guaranteed by 1pm: Up to 1kg £8.95

Royal Mail Special Delivery Guaranteed by 1pm: 1-2kg: £10.65

We are only able to deliver within the UK due to EU cosmetic regulations.
Plant your labels!

Plant the wildflower seed labels from our range of products and grow beautiful wildflowers in your garden. See our step-by-step planting guide here.
Care

Your natural soap will last much longer if you leave it to dry on a slatted soap dish. The water will drain away and the air will circulate around the bar to keep it dry and firm.

Storage: We recommend that you store your natural soap in a cool, dry, dark place in the box it arrives in until you're ready to use it.
Full ingredients

In plain English: Coconut Oil, Himalayan Pink Salt, Olive Oil, Glycerin, Water, Castor Oil, Lavender Essential Oil, French Rose Clay, French Green Clay, Charcoal Powder, Heather Flowers, Cornflower petals, Geraniol*, Limonene*, Linalool*

INCI: Sodium Cocoate, Sodium Chloride, Sodium Olivate, Glycerin, Aqua, Sodium Castorate, Lavandula Angustifolia Oil, CI77004 Kaolin & Illite, CI77004 Illite, Kaolinite, and Montmorillonite, CI177267, Calluna Vulgaris, Centaurea Cyanus Flower Extract, Geraniol*, Limonene*, Linalool*

*naturally-occurring in essential oils
Weight

Salt Soap

Half-bar 60g
Regular bar 125g
Share
View full details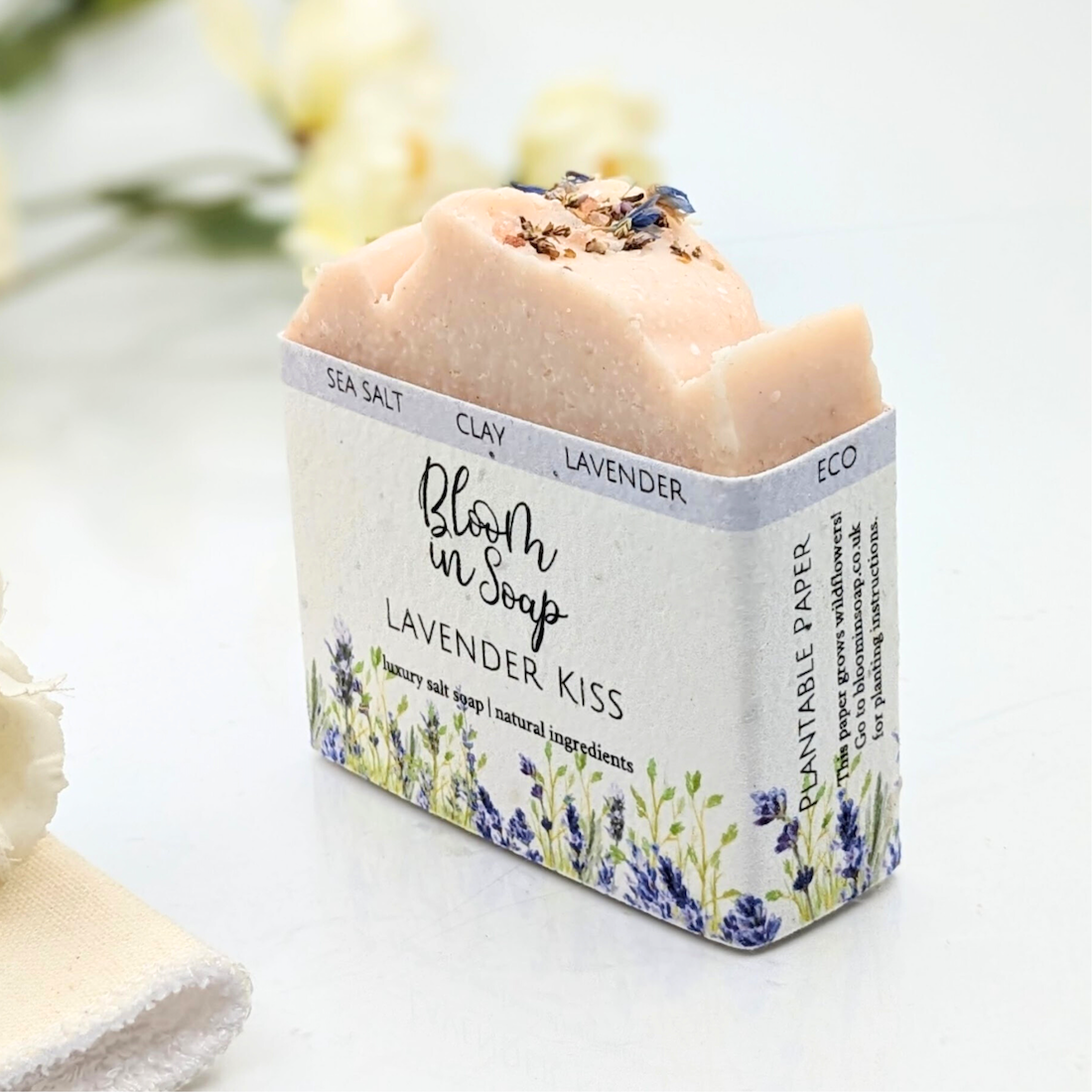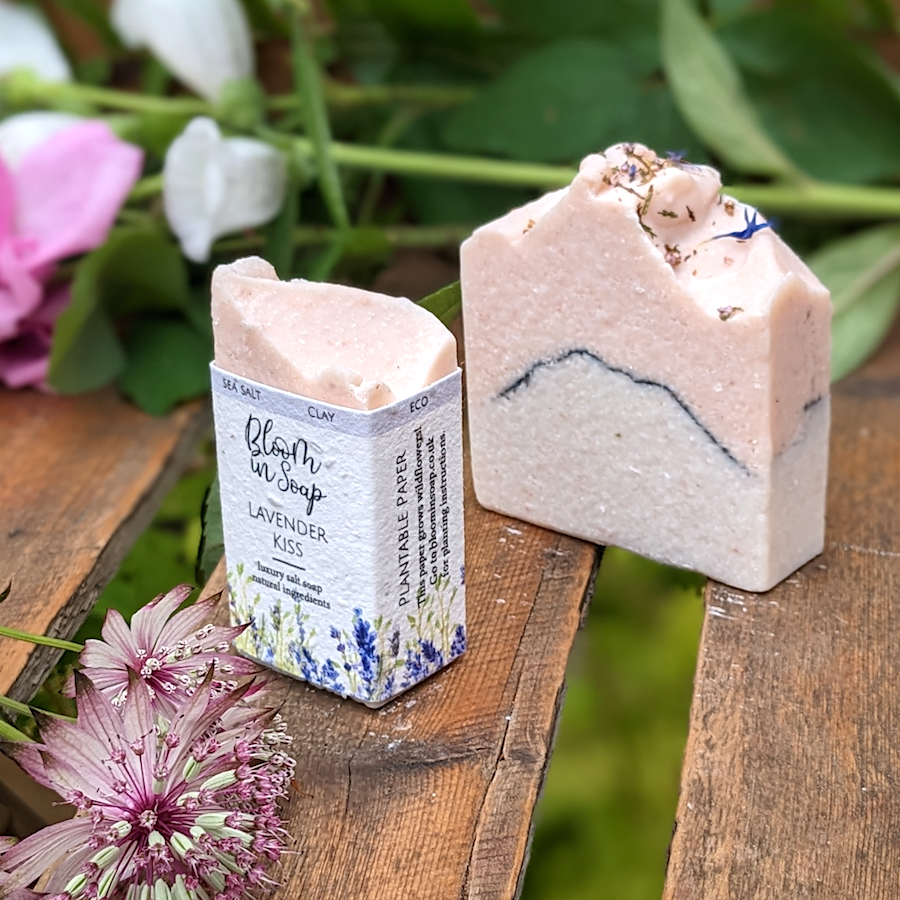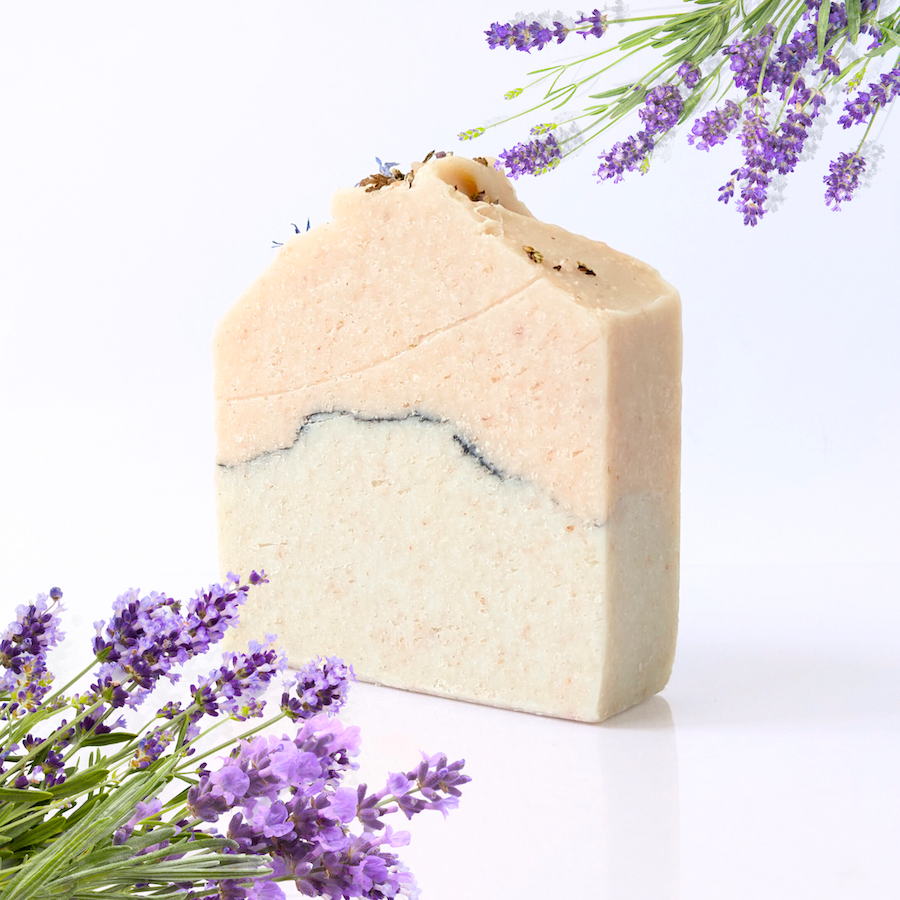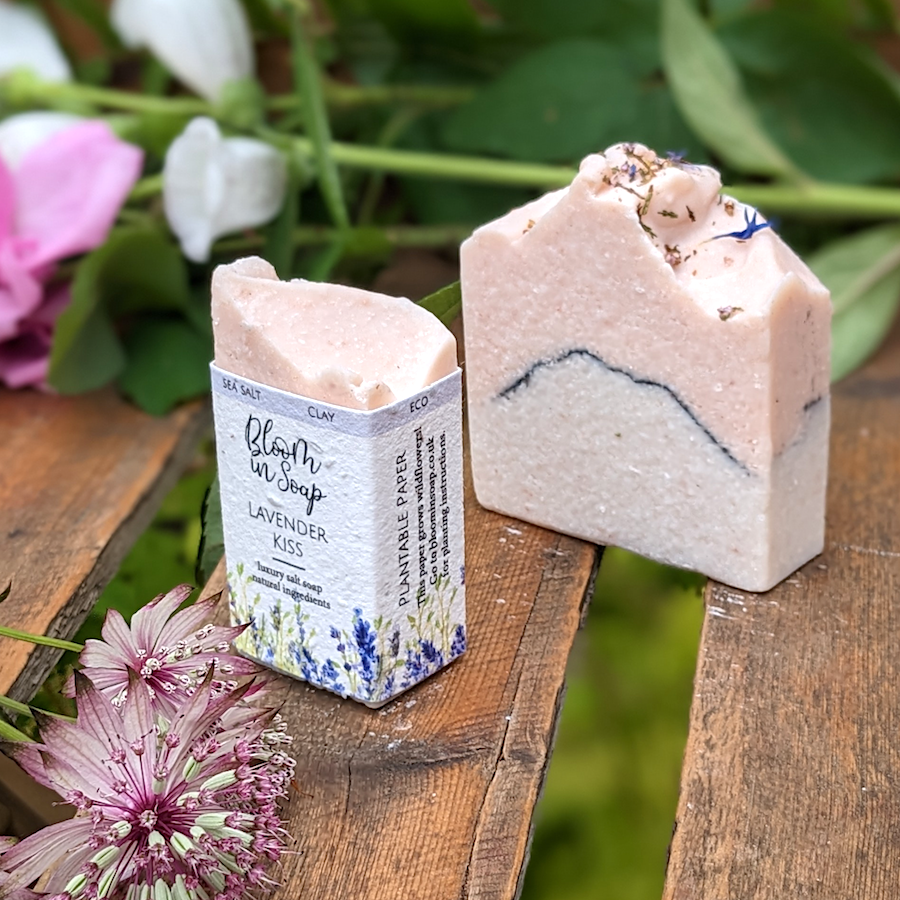 Buy 4 soaps, get £4 off
Buy any 4 regular sized soap bars and get £4 off! Discount is applied automatically at the checkout.
Best soap
I have tried so many individual soap retailers in recent years and have finally found the perfect soap for my needs. This lathers up beautifully, does not fall apart and has a beautiful scent. Allison is so helpful and I look forward to trying different variates soon.😊
Hi Megan! Oh wow, what a fab review of my Lavender Kiss soap, I'm over the moon with your lovely comments! I hope you love your other purchases too, thank you so much for taking time to leave your feedback it's so appreciated. Best wishes, Alison
Fantastic!
I have bought this soap over and over. It's gorgeous smelling and doesn't dry out my skin. Really good for the kids too.
Hi Vicky, thank you for leaving such a fab review! I'm so pleased your kids use it too, it's never too early to get them on the Natural route. Best wishes, Alison
Really impressed with my purchase!
The packaging was beautiful and thoughtful, the soap (i only used 1 of 4, i also bought the smaller size and i think it compares to a regular piece of soap if not bigger) was lovely, lathering really well so dont need much and will last a while if dried after use, smells lovely & actually leaves my skin somewhat moisturised and not dry like others. Overall very happy, will buy again & would recommend to anyone as a personal treat or a present to a family member !
Hi Ana, thank you so much for leaving us a 5* review! We really appreciate your lovely comments and feedback on our products. We look forward to sending you more lovely bars of handmade soap in the future. Please enjoy your purchases and know that we are thankful that you have chosen to support our small handmade business. Best wishes, Alison
Have you heard about the benefits of using salt bars?
Sea salt is an amazing natural ingredient that has so many benefits for the skin when used in salt bars. In addition to being an awesome natural exfoliant, salt attracts moisture to the skin to keep your skin feeling gorgeous all day long.
Why you should be using salt bars
SHEA BUTTER SOAP - WHAT'S ALL THE FUSS ABOUT?

You won't believe what a huge difference our natural soaps made with raw, unrefined, fair trade shea butter will make to your skin.

SHOP SOAP WITH SHEA BUTTER

GET SUPER SOFT AND SHINY HAIR WITH OUR SHAMPOO BARS

Ditch the plastic bottle (and the sulphates and parabens) and improve the condition and health of your hair with our pH balanced shampoo bars.

SHOP SHAMPOO BARS